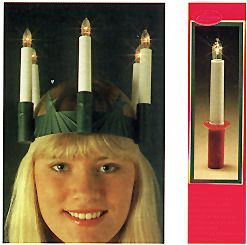 SWEDISH LUCIA CROWN & ATTENDANT LIGHT

Lucia Crown, Green with Green Stars $18.00
Attendant Light, Red $6.00
Lucia Crown, Green Delux Model, Stronger Construction, Cutout Stars $21.00 SALE PRICE $ 15.00

This Lucia Crown is battery operated and can be decorated with extra holiday greenery (adjustable to 21") and don't forget the 7" Attendant Light for each member of your Lucia procession (batteries not included).

The Tradition: In today's Lucia celebration on December 13th, the role of Lucia is taken by the eldest daughter of each household. Dressed in a white gown with a red ribbon sash and crowned with a halo of flaming candles, she dispels the blackness of the season of long nights by carrying saffron buns and steaming coffee to her parents before dawn.